CURRENT PROJECT(S)

Pictures and information about project(s) I am working on or planned.




HOUSE CORNER REPAIR



While waiting for better weather to continue on the Garage job, a customer called and needed some grab bars installed.

Installed 3 grab bars, and a circular hand towel holder in two bathrooms.







Corner of home that contains the garage was impacted. Customer put up temporary protection from the weather.
Walk door was destroyed, and wall framing disturbed.




Interior view of wall corner in the garage.




Here the corner framing is put back in it's place.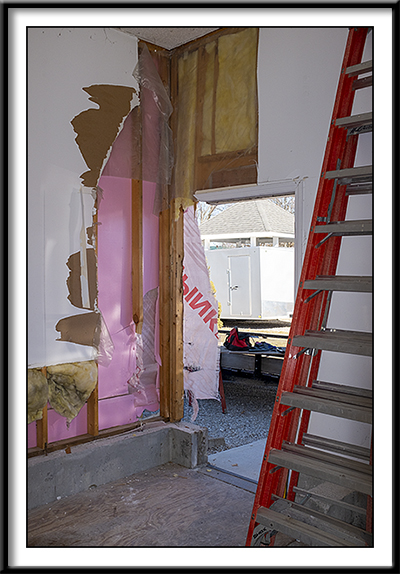 Ready to replace framing for walk door, and install door.




Done for the day, replaced plywood protection, and covered with tarp for protection from sleet, ice and snow on the way.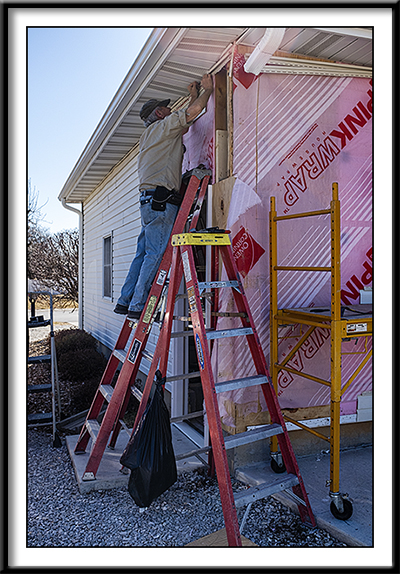 Re-constructed framing, installed walk door, replaced broken foam sheathing with plywood sheathing. Removed damaged vinyl siding and trims.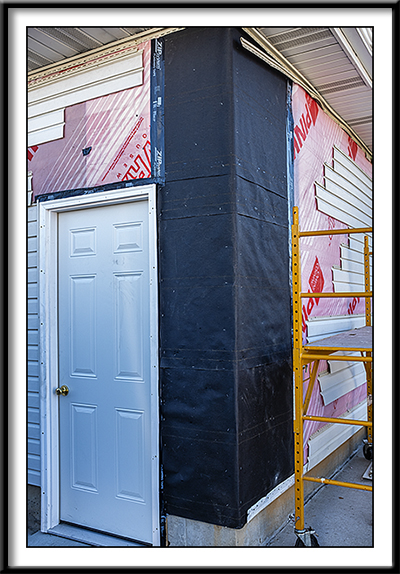 Replaced damaged house wrap with 15# felt, and sealed all house wrap/felt joints with self adhesive tape for water resistant application. Rain forecast, exterior is now water tite.




Walk door frame sealed with expanding foam.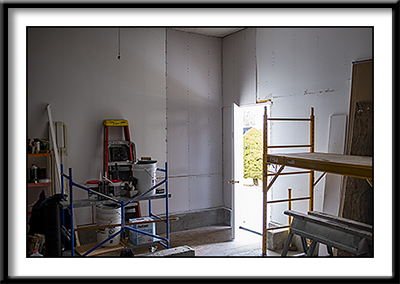 Sheet rock installed on top of plastic vapor barrier. Wall insulation was unfaced. Original wall has plastic on interior of studs, and exterior of studs. Original builder installed 1/2 foamboard on exterior on plastic, followed by a layer of housewrap. No OSB or plywood sheathing used, just foamboard for sheathing. A common method in the 80's and 90's. Vinyl siding was then fastened to the studs, through the foamboard. Usually, plywood was used on corners to keep the structure from "racking"...not done in this instance. We did install plywood for the corners, which the homeowner had already purchased to cover the damage to the home.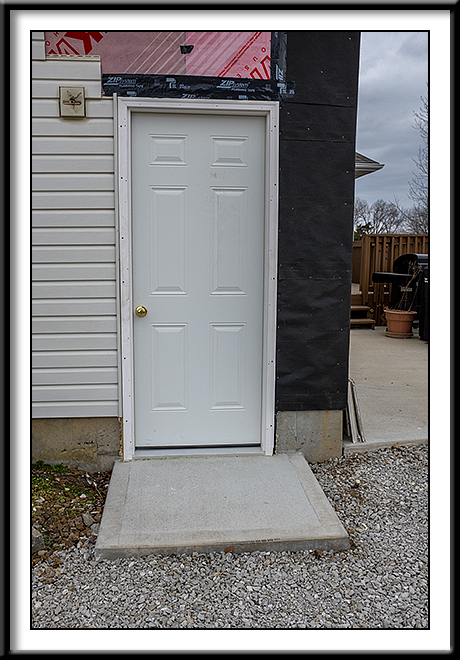 Exterior of door frame bottom sides sealed at the foundation with expanding foam, as well as under the front part of the sill. The door sill was sealed from water intrusion by using copious quanity of caulking under the sill, and at the sides of foundation opening, prior to door unit installation.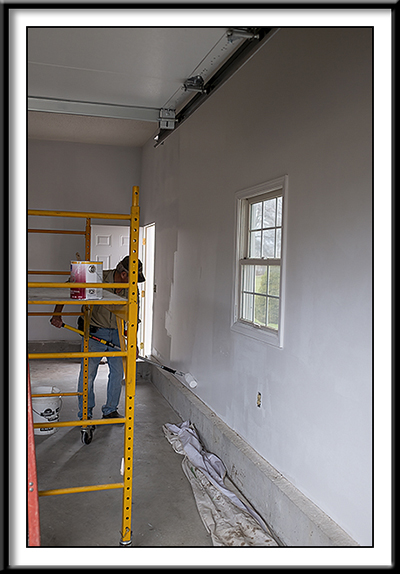 Painting new sheetrock, and north and east walls in garage. We had Sherwin Williams match the original interior wall paint color,so we could just paint two walls, to save labor and material on this project, with customer approval. Sherwin Williams did a great job on the match.Interior looks great.





Some vinyl siding and trims were damaged in impact to corner of house. Local suppliers did not have matching vinyl siding, either in stock, or available to order. I found the exact vinyl siding available for order at Menard's. However,the color on this home has been discontinued. Bummer. Available to order was a color of siding the customer approved, that would be installed on the back wall of the house, to replace original siding removed to replace damaged siding on the east wall of home.
We will remove siding from a back wall of the house, to replace damaged siding on east wall of home, so that from the street, that siding will be the same color as originally installed when home was built. We will use the customer approved vinyl siding to replace the original siding removed from the back wall of the house. Not a perfect solution, but one the homeowner thought would be alright. The back wall is not viewable from any street. (Alternative was to re-side a lot of the house.)





Interior painting completes project inside the garage.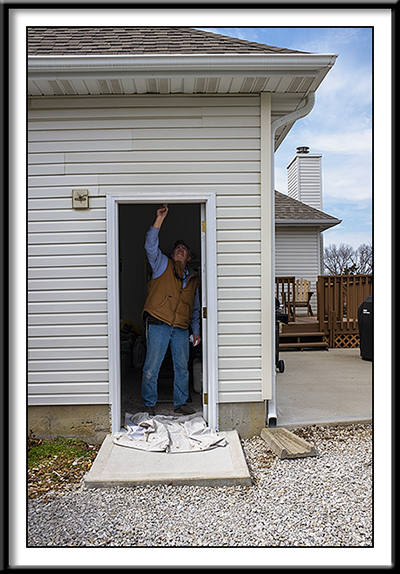 Painting exterior trim on walk door completes the exterior of repaired corner of garage.
This project is finished.



HANDICAP RAMP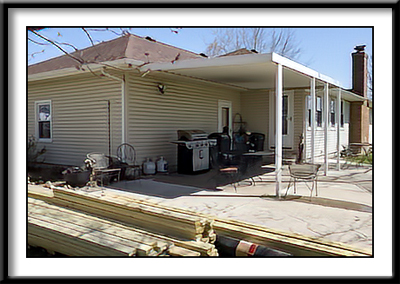 Customer needed handicap ramp built. Originally planned for inside the two-car garage, for easy access to vehicle for transport for doctor visits, etc. However, after planning ramp, the slope of the ramp built would be too steep for motorized wheelchair (electric scooter). After further consideration, customer decided to build ramp out the back door, from the office/living room area, and onto covered concrete patio.

This would allow for ADA maximum suggested slope angle of 1 inch rise for every foot of length for the ramp. A five foot landing area at the end of the ramp, would lead to a concrete sidewalk that went around the garage, so that vehicle access would be optimal. ADA suggests that 1 inch rise for every 16 inches of ramp length, or 1 inch rise for every 20 inches of ramp length would be even better. We only had room for the 1/12.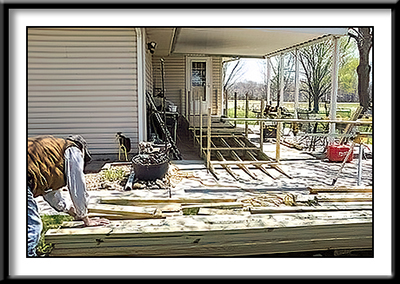 Customer's electric scooter is in excess of 225 lbs. Total weight with 200 lb. rider makes an approximate 425 lb. load. A caregiver walking beside or behind the scooter gives a possible total load of 600 to 700 lbs. We built this ramp to accept a minimum load of about 1000 lbs. If ambulance crew uses this ramp, the two EMT's, gurney and patient would be safe using this ramp.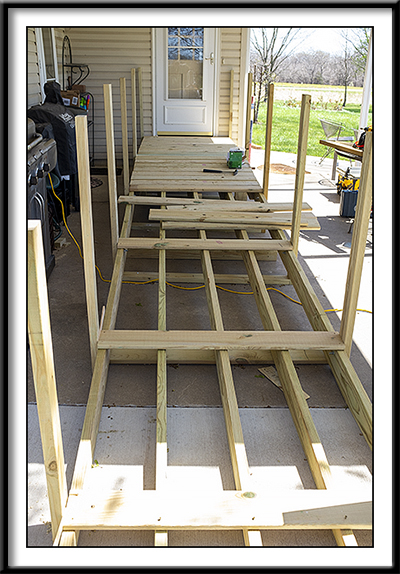 Five stringers using 2x6 treated yellow pine, 12 inches on center, with maximum length of 8 ft between support, makes for a serious floor system. All deck boards were fastened with two screws at each junction of the 5 stringers.

Total rise at the house steps is about 18 inches. The ramp is 18 foot in length, and an additional 12 inches of non-slip solid rubber transition ramp threshold, extending total ramp to 19 ft.

This makes for a very comfortable walking rise, and the treated floor has excellent traction.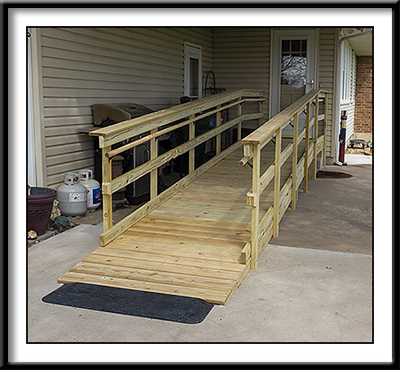 Here you can see the finished ramp. A secondary hand rail placed for convience of walkers and for wheelchair occupant, and a barrier rail on each side of the floor prevents accidental travel off the sides of the ramp.

Not one single nail was used in this project. All posts were bolted to outside stringers with galvanized bolts. For everything else, we used GRK R4 screws, of varying lengths, which are ESR-3201 approved for structural applications, including using treated wood. These are available at Full Line Lumber here in Clinton.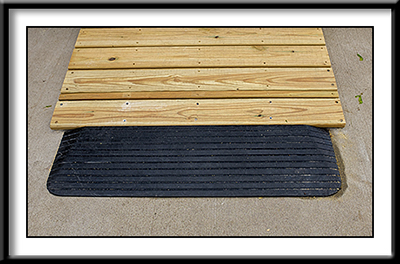 For the maximum amount of safety and smooth access to the ramp, we used Silver Spring's solid rubber threshold ramp. Click below to see it at Amazon:

Silver Spring threshold at Amazon

The stringers were cut on angle, in such a way, that where the stringer ends, with a decking board laid on top, it would be 1-1/2 inches thick. Since there was not enough wood below the last two deck boards to fasten with screws, we used special concrete fasteners to screw the deck boards and the stringer end to the concrete patio below. The 1-1/2 inch rubber threshold ramp then matched the thickness of the stringer/deck board, and then sloped down to almost nothing, extending the ramp length, and making for a super smooth transition.


This ends this project for now.




GARAGE WALK DOOR REPLACEMENT






Customer wanted his un-attached garage walk door replaced. Garage was built 12 years ago, and every rain, water leaked through the door opening into the garage. The door sill on either side had started to rot, and he was tired of the water problem. He purchased a new door and a storm door for this project at Lowe's in Warrensburg. He told us he had to go through 5-6 door units to find one that was put together right or not damaged.

We have removed the old door unit in this picture, cleaned the sides of the door opening, and the concrete where door sill will be set. The original installation used silicone caulk to seal the door sill to the concrete, and this is where major part of the water leak problem was. Silicone is worthless to seal a door sill to any material. I quit using silicone years ago, when I saw how poorly it lasted as a sealant. There are probably applications where silicone works fine. Probably.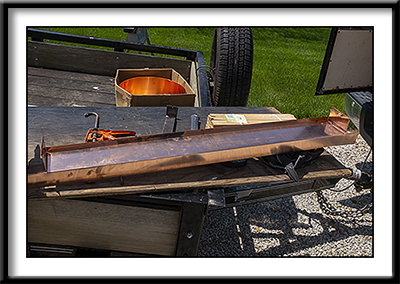 Manufacturer's today require a "pan" to be used under all exterior windows and doors. A pan will allow water or condensation that occurs under the window or door, to drain to the exterior of the wall, keeping it away from vulnerable material.

Want to know more about window and door pans?

Click here to visit website of a popular brand of window/door pan.

While PVC would probably be a pretty good choice for a door pan on concrete, aluminum would not. I thought an even better choice would be copper. I know, it is expensive, to say the least! However, copper flashing is normally considered to last "as long as the structure it is applied to". It also does not react to the chemicals in concrete. It has been used as the top choice for exterior flashing for a long, long, time.

So, I put the metal brake in the trailer, with a box of 16 ga. copper, and formed a pan at the job site.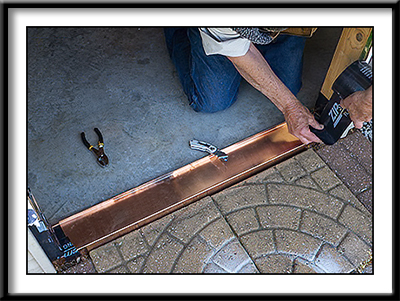 Here you see the copper pan installed on the concrete floor. What you don't see is the Polyurethane Sealant we "troweled" on under the pan, and up the sides of the door rough opening studs on either side.

Also, I have to admit to a mistake here. I mistakenly made the pan too narrow. I wanted to have the front lip of the pan to go down over the front of the concrete edge, to allow moisture to drain down the edge of the slab. That worked out OK. However, I misjudged the depth of the pan.

The original door installation was wrong from the beginning. What I mean is that the front section of the original aluminum door sill was never supported by anything! If you look at the first picture in this series, yoou will see what I mean. There is no concrete protrusion at the door sill area, to rest the door sill on. The customer told me that he just put the stepping stones under the sill that stuck out, and figured that was good. Well, maybe it would be if it never rained, oh well. Worse, the ground under the stepping stone did what dirt does...it fell/shrank down below the door sill enough that when you stepped on the sill to enter the garage, the aluminum sill would bend quite a bit. He told me he just avoided stepping on it, because he did not use the door much.

So I just made the pan fit from the front concrete edge, to the back edge of the interior wall. My mistake was that since there was no sheetrock or trim on the garage wall interior, when we set the door unit into the opening, the door unit required another 1/2 inch of pan depth to accomodate the 4-9/16 jamb width of the door unit.

I have to say here, that I work with a carpenter that is in the engineer class of carpenters. I said, now what? He said, just cut the back lip off the pan, and make an extension to fit the door jamb width. So we did. Sealed it with more polyurethane sealant, and it fit perfect. Thanks, Mike.

When you use a pan, it is important that you seal the back lip, so that the door sill seals against it to prevent air intrusion, and to direct the moisture back to the front for drainage. You do not seal the door sill to the pan, except for some sealant at a 90 degree angle to the back lip.

Click below for more information on installing and sealing a window or door pan:

Installing and sealing a window or door pan.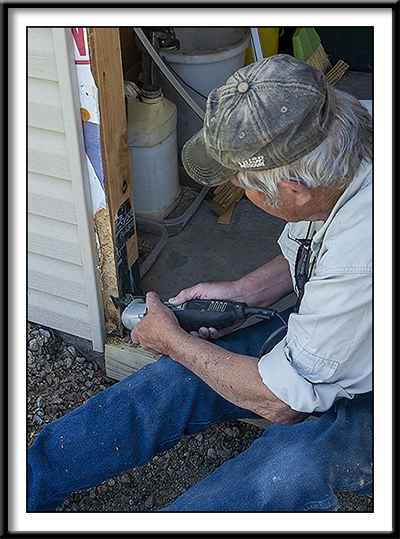 Once we had the "adjustable door pan" in place, and set the door unit in the opening, we noticed that the door unit did not fit the opening at the bottom. The customer alertly mentioned that he thought the wafer board sheathing used had absorbed enough water to swell quite a bit on each side at the bottom of opening. He was right. The house wrap used on the exterior of the wafer board sheathing did not keep the water that was traveling between the bottom of the door sill and the concrete floor. It just acted as a sponge and sucked the water up, swelling and increasing the thickness considerably.

In this picture "Engineer" Mike uses an oscillating saw to remove material from the wafer board to get it close to original thickness. We used flashing tape over the repaired waferboard for weather protection, restoring the integrity of the house wrap.

One further improvement we made was to use tapcons to install a 2x4 support under the door unit sill. We used a table saw to "cut out" a recess in the top back of the 2x4, that matched the front copper flashing lip, so that drainage for the pan would not be impacted. The cut out directs water to either side of the door unit, and further impedes ground water from entering the pan. Sorry, I didn't get pictures of that. You can just see part of the treated 2x4 support in this picture, and the entire treated support in picture below.






Finally, caulking between the brick mold on the door unit and the j-trim for the vinyl siding completed our part in this door replacement. Our customer was extremely helpful, installing the lockset and the storm door for another finished project.




ANDERSEN WINDOW SASH BALANCE REPLACEMENT



Today we installed new sash balances in customer's Andersen Narrowline Series Double-Hung window. Replacement balances fit perfectly. Window works just like a new one now. Customer very happy.

Everything went just exactly as the below video describes. (I still have my Panasonic drill just like the guy in the video is using! lol )

Click here to see Andersen video.

Well, everything went "almost" like the video. Exception for this window was that the top jamb cover's front edge was formed to fit into a "kerf" in the window frame, and was held in place by the window trim. The trim had to be pryed out enough for the jamb cover's edge to move a little so the top jamb cover could be removed. Not a big deal, but could have been is cover was forced without moving the trim out a little.

Removed left side bottom half of jamb cover without hurting it, just as in previous window sash balance replacements. We did have a new bottom half jamb cover just in case, as suggested by Andersen.

Customer has Andersen Narrowline Series 200 Double-Hung wood windows in their home. Manufacture date on this one is May 1988.That makes this window 34 years old, and it still looks great.

Some years back I replaced sash balances in two other windows in this home, as well as an operator in an Andersen casement window. Windows are from 1987-1988. Everything worked out fine.

One great feature of Andersen products is that the replacement parts fit perfectly, and restores the product to like new operating condition.

Most of today's vinyl windows are throw-a-ways. You even see ads that tell you that if your windows are over 5 years old, it is time to get new ones! You get what you pay for.

Contact Scott at Full Line Lumber in Clinton, Missouri for your Andersen Products and Parts.



WHILE YOU ARE HERE, CARROLL...COULD YOU...

I need better access to my Sunroom, what do you recommend?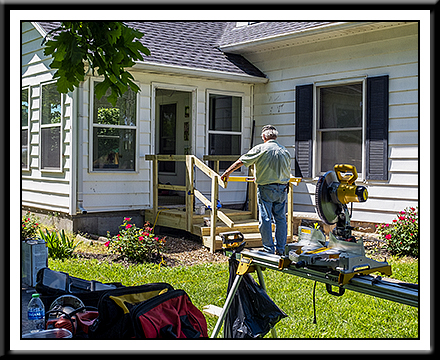 Steps leading into Sunroom were uncomfortable to use. No handrail was originally installed to use. Friends that would visit were at risk for injury, and customer wanted to change that possibility.
We suggested building a wooden stoop, with shallower steps, much deeper than present steps, with sturdy handrails.
Storm door finish had faded, and started to rust a little at the bottom. Decision was made to re-paint the storm door during the stoop construction.
SUNROOM SOLUTIONS APPROVED BY CUSTOMER:
1. Build a wooden stoop.
2. Repaint storm door exterior.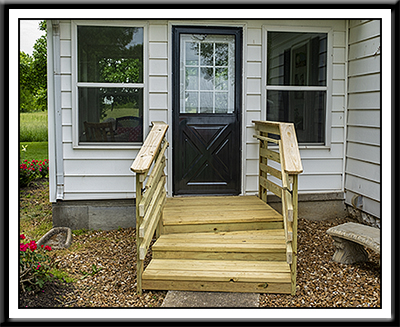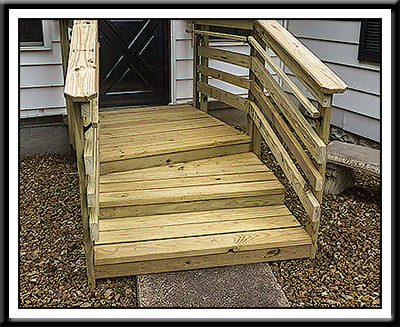 ADDITIONAL PROJECTS: Customer has several outbuildings that need fascia covered with painted metal covers. We will use metal brake and PVC trim coil to make fascia covers for these buildings.
Customer had 20+ year old refrigerator that had handles that were deteriorating, and needed replaced, as cleaning them was not satisfactory. (We took care of this by ordering factory original handles, installed them, and this made a big improvement!)
This refrigerator was a General Electric, and here is where we found the handles. Even though is an old model, replacement parts and pieces are still available! Fast service, and was an exact replacement!
Click here for refrigerator parts.




(Check back for more info and pictures, as we complete these projects.)





FUTURE PROJECT:
Customer needs a window removed from bathroom exterior wall, to install new shower in bath. Also, needs a new door/cover to crawlspace under home, and some fascia work and misc. done.
FUTURE PROJECT:
Customer needs brick column steel beam support in basement replaced with steel post support.
FUTURE PROJECT:
Customer needs transition designed and implemented on wall and floor where short wall was removed in home.
FUTURE PROJECT:
Customer has deck supports sinking into ground. Deck needs jacked up, and supports re-done.
All content Copyright by Carroll Stewart - All rights reserved